The commercial approach: Top Ace motor works
My frend Huub Luyk knew Top Ace motor works, a large metal workshop whose manager, mr. Benito Tiong, was interested in Micro Hydro. Based on the firefly manual, mr. Tiong made a price quotation and came up with a very reasonable price: ca. US$ 150 for the charger without switchboard. I met mr. Tiong a couple of times and visited his workshop. Clearly, mr. Tiong was determined to, and capable of, producing good quality chargers. He suggested ways to produce the charger cheaper. In the Philippines, this is not as logic as it seems, as many business people think from the marketing side and are primarily interested in finding new ways to sell their products at a higher price.
Now there was a problem on the demand side: How could potential customers get in touch with Top Ace and order a charger so that Top Ace could start producing a small series. Top Ace would not do "turn-key firefly projects" so other parties were needed to advise potential users, help selecting a site, design civil works, wire up houses, sell batteries at a reasonable price etc. This is where ideas about good development projects come into play. I would have loved Top Ace to produce chargers and make a profit on it. Also DGIS/DST/ML (the Dutch ODA dept. that funded my mission) would like a private company to be involved and sell commodities at realistic prices. I think that mr. John Malamug, the manager of BSU-ANEC, was in favour of such contacts with Top Ace. BSU-ANEC received more requests for demonstration chargers than they could handle themselves and likely, he will have referred such people to Top Ace. But I doubt whether it fitted in mr. Angeles way of working: He wanted "social projects", so giving away chargers for free. He thought the chargers they built themselves, were good enough so no need to improve quality. The firefly building workshops were a showcase success for them so I don't think that he would like to put an end to it Also he was used to decide himself who could be beneficiaries of his M.H. projects, and not just sell products to customers who were willing to pay for it. Also for PRRM it would have been a big step to allow a private company to earn a profit from their Micro Hydro projects.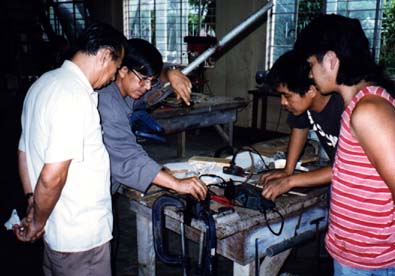 mr. Tiong (left) looking at my jigs and jigsaw machine for cutting side disks in series. The other people are, from left to right: mr. Edgar Molinas, and Jackson ..., both of BSU-ANEC, and mr. Tiong's assistant
I have not been in touch with Top Ace motor works since 1996 and I haven't heared about any chargers being built by them.

A Philippine-wide firefly introduction project

Besides my work for the ANEC's, I have tried to establish contacts with other organisations in the Philippines that could play a role in a future, Philippine-wide firefly introduction project. At that moment, it looked like there were possibilities for substantial funding from DGIS/DST/ML for such a project. But it never came off the ground:
I did not find an organisation (or a group of organisations) that were interested and capable of planning such a project, applying for funding and then implementing it.
Dutch development aid funding was restructured in such a way that decisions about funding would be made at Dutch embassies instead of in The Hague. So getting a project off the ground was primarily a matter between a Philippine organisation and the Dutch Embassy. As a Dutch technical consultant, I could do little to stimulate that process.
Is the firefly too cheap?
When I wrote the manual, I hoped that after some initial technology development and introduction projects, the firefly technology would spread by itself. This has not happened: On the whole, the firefly plays a negligible role in providing energy services to isolated, rural areas in the Philippines. Meanwhile, solar energy has been introduced succesfully in a number of developing countries and I guess the same has happened in the Philippines. An infrastructure for supply, installation, maintenance and repair has developed and prices have come down. A typical Solar Home System (SHS) consists of a solar panel, Battery Control Unit, a battery and a few fluorescent lamps. Both the firefly and a SHS can power about the same types of appliances. The firefly is more flexible in terms of energy usage as one could just have the battery recharged more often if one would like to consume more energy. A disadvantage of the firefly is that it requires more care (for checking battery state of charge) and more work (for bringing the battery to be recharged and collecting it later).
If one looks at costs, the firefly is much cheaper: Back in 1992, investment costs per house for the firefly were about 1/10 of those for a SHS. Investment costs for a SHS have come down since then and by now, the firefly will be about 1/5 of a SHS. Considering this price difference, one would expect that the firefly would outcompete the SHS in those areas where suitable sites are abundant and where people are so poor that spending time is favourable above spending more money. There must be quite a few such areas in the Philippines but nowhere the firefly has realy taken off. This makes one think about other obstacles that hampered firefly introduction:
Status: Clearly, a solar panel on your roof gives another impression to the neighbours than being seen while carrying your battery down a slippery mountain trail. Solar energy is high-tech, clean, shiny, silent and luxurious while the firefly is second hand car technology, rusty, muddy, noisy and laborious.
Technology push: There are large companies involved in spreading solar energy. They have built up a supply chain that reaches out to village level in areas where solar energy is widespread. To finance uneconomic demonstration projects in new areas, they have access to development funds. The firefly will never be promoted in such a way. In the Philippines, the biggest car battery supplier also produced solar batteries for Solar Home System and was actively promoting solar energy. I once spoke to their sales manager but he lost interest when he learned how cheap the firefly system is. Selling 10 Solar Home Systems and making a decent profit margin on it, is worthwhile. Selling one firefly charger, 10 batteries and a bunch of cables is not. They would have to charge an excessive profit margin on it to cover the costs of their Manilla-based staff, customers would be angry when they would find out and in the end, it would compete with their solar energy activities. This leads to a situation where the ones who might want to introduce the firefly technology, don't have the capacities and funds to do so while the ones who could do it, aren't interested because they can earn more by producing expensive goods for richer people.
I think those reasons played a major role in why the firefly technology never took off in the Philippines. I realize I played a role in it myself: If I would have been a smarter technician, I might have come up with a good design earlier and I would have found and solved all remaining technical issues. If I would have been a more enthousiastic salesman, I might have gotten this Philippine-wide introduction project off the ground. If I would have worked harder... etc. But I doubt whether that would have made such a difference that these two obstacles could have been overcome. I am open to discussion with anyone who thinks differently about this.