The firefly system consists of 2 major components: The firefly charger and the home systems. The charger basically is a second hand car alternator with a `crossflow' runner mounted directly on the shaft, see figs. 1, 2 and 3 (see HARVEY, 1993 for a description on crossflow turbines). It might seem this charger is the major component as it is the part that generates electricity. However, economically speaking it is not: batteries and other materials for the 10 home systems that are typically served by one charger, are about 5 times as expensive as a locally built charger. Also in running costs, the batteries are the critical element so proper battery care is vital. This means among others that batteries should not be discharged too deep and should never be left in discharged condition for long. Therefore the charger should always be ready for charging batteries, which it will when it is built properly, the operator is around and knows his/her job and there is water to power it.

The firefly charger is quite flexible with respect to the head (= water pressure in m) it can operate at, see the characteristics in fig. 4. At high head, flow and output power can be reduced by inserting a blocking timber in the nozzle. Over the whole head range, the charger can operate at its optimum speed because field current can be regulated, see fig. 5 for the electrical circuit of both charger and home system.

The home system includes the battery, lamps, switches and the wiring to make these work. It also includes the firefly charge indicator, a small piece of electronics that shows how far a battery has been discharged by means of 10 LED's. It is located near the switch of a lamp that is often used and is activated when this lamp is turned on. The fact that it lights up will draw the attention of users, even more so because before showing its final reading, the LED's indicating a lower voltage light up briefly. For more accurate readings, there is a push-button switch to activate the charge indicator without any lamps being switched on. So prime responsibility for not discharging batteries too deep, lies with the users who own them. As a back-up, the operator of the charger should check whether batteries were discharged too deep before charging them.

Major advantages of the firefly system are:
It is Cheap: In the Philippines, a complete charger was estimated to cost $ 150 while the materials for a home system were about $ 75 (1992 prices, labour done by users not included). So with 10 users per charger, investment costs are only $ 90 per user, or about 1/10-th of the investment costs of a solar home system at the time.
Introducing it is simple: Compared to 220 V A.C. systems, the firefly system needs only few users to start with and no local electricity grid. Training needs are less because 12 V is safe to touch and operators can learn by trial and error. Finding a suitable site is easier and digging a canal is less work since it requires only a small flow and a low head. Also the firefly charger can be demonstrated by using a motor pump or a makeshift water source before investing in a permanent canal, batteries etc.
Local production is possible: Car repair workshops can produce the mechanical parts of the charger while electronics repair workshops can build switchboards and charge indicators.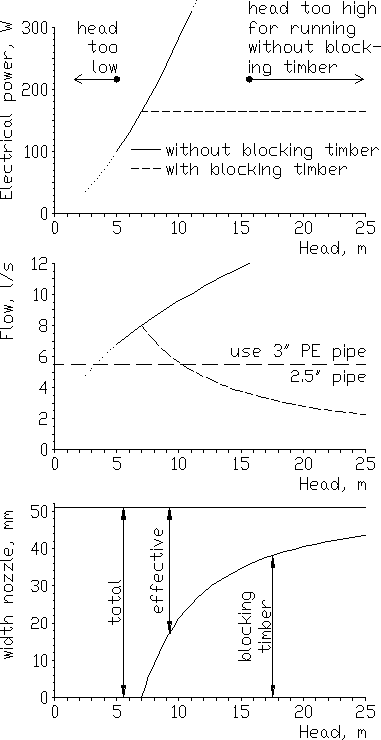 Fig. 4: Charger characteristics.
Notes
Above 7 m head, electrical power would become too high for charging only one battery. Then output power can be limited by inserting a blocking timber in the nozzle that blocks part of nozzle width. Above 15 m head, a blocking timber of at least half nozzle width is needed to keep forces on runner blades within limits.
These characteristics are based on an assumed overall efficiency of 0.30 . For a neatly built charger fitted with a good alternator, overall efficiencies of up to 0.40 are achieveable. If electrical power is disappointingly low, check:
Electrical system (see fig. 5). As long as the battery is relatively empty, the voltage regulator should provide full field current. If not, check its adjustment and make sure voltage drop to battery poles is low.
Measure field current: If this remains below 2.5 A even with all field current lamps on, check alternator brushes. Fit a better seal if brushes have become wet. Check whether actual speed is close to optimal speed for turbine (= about 60 % of free running speed). Reduce or increase the number of field current lamps being switched on until charging current is highest.
Pipe losses (measure net head at nozzle inlet). To reduce pipe losses, fit a larger diameter pipe or a wider blocking timber.
If runner and nozzle are built rather crudely, check how much water is leaking past the runner. Fit the nozzle closer to the runner to reduce this.