Cart people learned about the firefly via the article in Energy for Sustainable Development. In 1996, they contacted me and I sent the manual to mr. Ravikumar, chief coordinator of CART. In 1999, mr. Deepak Malghan mailed me:
My group is called Centre for Appropriate Rural Technologies (CART). CART is based in a town called Mysore in S.India. We have in the last two years, built and installed four firefly systems and lab tested a couple of others. One of the sites, it has been working very well without any problems.
December 1999, he mailed me a set of pictures. For more information about CART, see http://www.oneworld.org/cart/.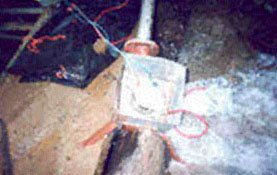 Firefly charger at work.